Wednesday, May 03, 2006
Trouble with Electric Planes
All the topsides plywood is glued in place, which means it was time to dust off the electric planer and start shaping the waterline chines. After a few minutes, the planer slowed down & ball bearings started appearing. The pic shows the old Bosch 25-82 planer, which gave many years of good service, and the new Bosch 26-82 planer. On the right is the piece of GMC junk which lasted 5 minutes before the blades went blunt on the cured epoxy.
It's definitely worth the extra money for a quality planer!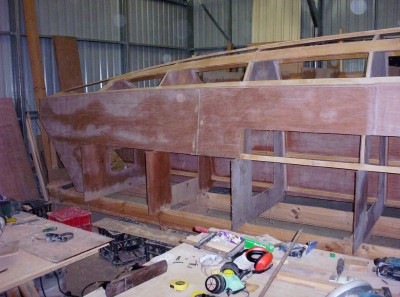 This pic shows the waterline chine taking shape.