Tuesday, November 11, 2008
Structurally Complete!
Well, I can't believe its been more than 4 months since the last posting.
One month of that was spent on holiday, visiting family in USA and Canada, and going to the Calgary Stampede.
Since then, all decks and superstructure have been finished. This shot shows the "turret" over saloon and cockpit. It looks a bit strange from this angle.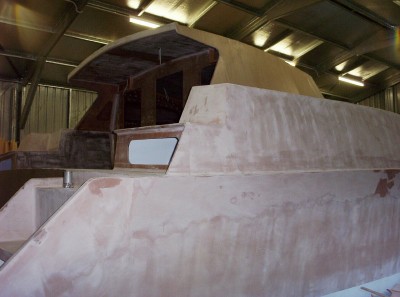 This shows the cockpit. Seat tops are currently removed. The window outlines are visible, and I have now cut these out with the router.
Filling and fairing is almost complete, but I still have a few edges and tricky bits to finish off. However, all the sanding aggrevated my carpal tunnel problem. My left hand was fixed 3 years ago, and was very successful. So I had the right hand done last week - the bandage comes off today. Although the recovery will slow me down, Carol is doing some small filling jobs under my supervision. I also have some things saved up that can be done with 1 hand - like CAD drawings to get the windows cut, tracking down all the silly plumbing fittings and fine sanding with a palm sander.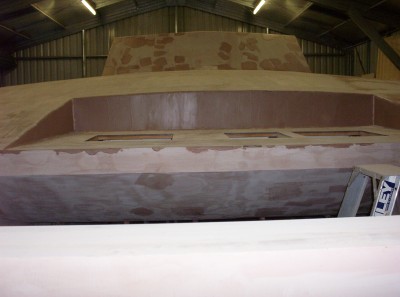 Looks like the launch will be in early 2009.