Sunday, May 31, 2009
Wow! 6 months since last entry!!
I can't believe it's been six months since the last entry. A couple of people have even asked me whether I am actually still building the boat...
The whole boat is undercoated on the outside, and I am currently sanding it back ready for topcoats. A professional boatbuilder friend called by the other day and told me to keep sanding to at least 240 grit.
The entire inside is painted, and much of the plumbing and electrical is completed. Here's a couple of pictures of the galley and pantry. It was quite challenging to get the laminex surfaces down - each piece required a masonite template to get the right size, and then had to be glued in exactly the right place, and you only get one chance at it.
The fridge compressor is in the locker on the left of picture. The blue knob is the temperature adjustment for the fridge.
There's still a bit of plumbing to finish in the heads: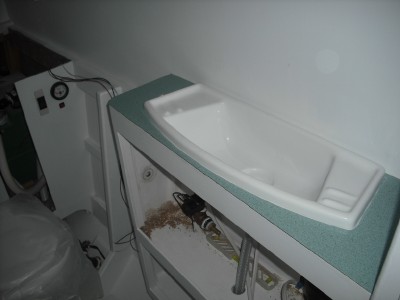 Both cabins are completed, and one even has a matress so I can have afternoon siestas!
The batteries are installed, and I am currently working on the electrical distribution, which is all under one of the seats in the saloon.
------------------------------------------------------------------------------------
Hopefully there will be more frequent updates, as launch date approaches.
-----------------------------------------------------------------------------------